FITZGERALDS SIDEBAR Presents:
Songwriter's Circle w/ Host: MIKE THE DENTIST w/ guests CHERYL TOMBLIN and JODI WALKER
Mike the Dentist
Cheryl Tomblin, Jodi Walker
Show:

7:00 pm
Doors:

5:00 pm
FITZGERALDS SIDEBAR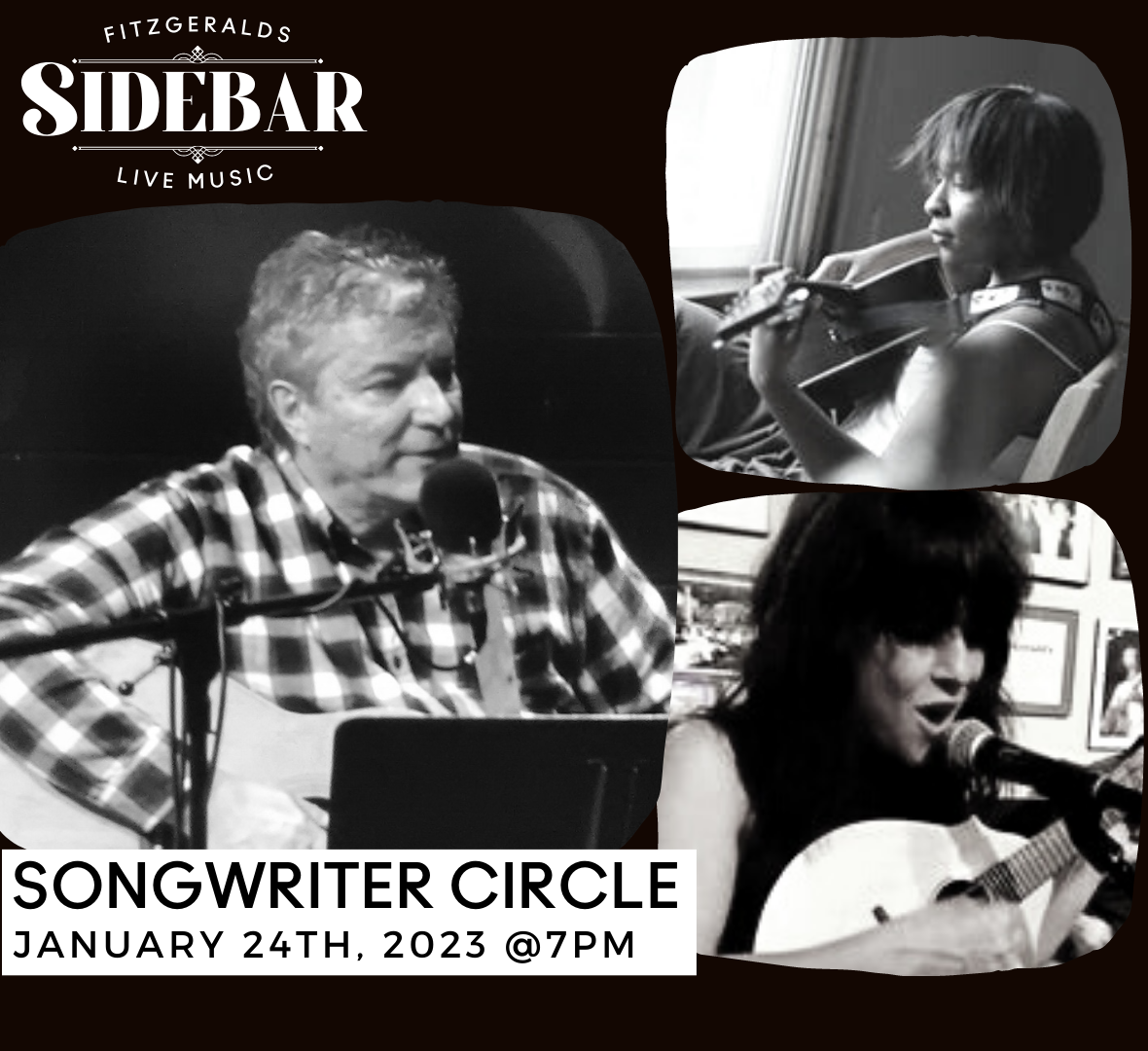 Additional Info
FITZGERALDS SIDEBAR PRESENTS:
SONGWRITER'S CIRCLE w/ host MIKE THE DENTIST and guests CHERYL TOMBLIN and JODI WALKER

FREE SHOW! Click "Book Now" to Reserve a Table!

Whether he's telling the tale of the doomed "Titanic", commiserating with the likes of Herbert Hoover, or lamenting about his increasingly unfaithful personal muse, singer-
songwriter Mike Johnson always enjoys performing his unique style of Folk Music, and especially enjoys any opportunity to do so at Fitzgerald's. He's proud to have been a part of the famed venue's "American Music Festival", and, more recently the annual "Ron Lazzeretti's Very Special Christmas Special". An Elgin, Illinois native, he has been writing songs for as long as he can remember, and still looks forward to every
chance to share them.

Cheryl Lynn Tomblin, also known by her project moniker PIPES, is a singer, songwriter and multi-instrumentalist from the Chicagoland area. She has released two PIPES EPs – Allow Me the Pleasure (BobDog Studios) and Those Ramblings on the Wall (Wire Records) – as well as one full length solo album, Mockingbird (Sound Vault Studios). The common thread between all her music: dark musings, contemplative desires layered on thick with her smoky vocals, pulling from musical influences such as PJ Harvey, Chris Cornell, John Lee Hooker, Cassandra Wilson, Alice in Chains, Morphine and Monique Ortiz. Tomblin began playing piano when she was 7 years old, violin when she was 10 and at 17 was given her first guitar. Over the years she has learned and played a variety of other instruments -cello, viola, ukulele –but her performance mainstay is guitar. Though most of her adolescent years was she spent listening to all the 90s grunge giants, she began the deeper dive into other genres like industrial, trip-hop, indie/alternative, blues and folk to cultivate her musical palette, soon leading her to start writing her own songs. With a B.A. in creative writing from Carnegie Mellon University, Tomblin has worked hard to sharpen her songwriting skills over the years, allowing her to play at various venues throughout the Chicagoland area such as Uncommon Ground, Abbey Pub, Elbo Room, The Friendly Tap, Sketchbook Brewery, Fitzgerald's, The Outta Space, Montrose Saloon, The Burlington and Val's Halla Record Store.

Jodi Walker began her musical career in the early 2000's in New York singing jazz. She relocated to Chicago in 2009 and began writing and performing as part of various ensemble groups including the Significant Others, MilkMoney, Rainy Day Women and the Zimmermen. She has released 4 albums and has been featured on numerous others. She lives in Oak Park and spends her days running her speech therapy practice and chauffeuring teenagers.
Grab dinner before the show at BABYGOLD BARBECUE
***PARKING***
There is rather limited street parking in the area, we recommend arriving by rideshare, bicycle, or rickshaw.
Artists