FITZGERALDS SIDEBAR Presents:
THURSDAY night in the SIDEBAR: JIM COLE, ANDON DAVIS & HANA FUJISAKI
Jim Cole, Andon Davis, Hana Fujisaki
Show:

8:30 pm
Doors:

7:30 pm
FITZGERALDS SIDEBAR
FREE / RSVP
Ages 21 and Up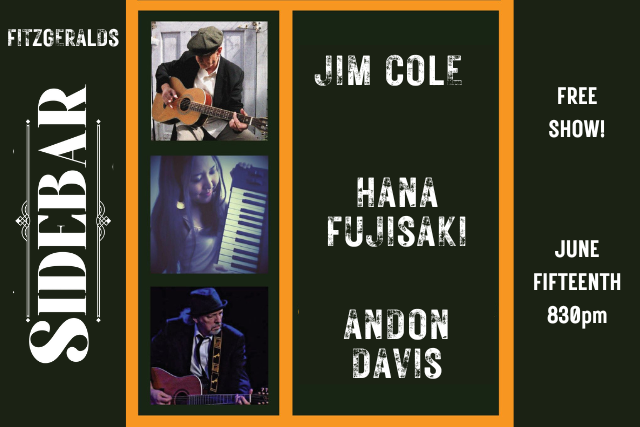 Additional Info
FITZGERALDS SIDEBAR Presents:
JIM COLE, ANDON DAVIS and HANA FUJISAKIi
FREE SHOW! Click "Book Now" to RSVP for guaranteed entry.

Jimmy Cole left Chicago, bound for New Orleans.... That was in 2009 and for the 2nd time. The 1st time was several decades earlier when he went there and worked in the oilfields as a deep sea diver for 15 years. Merida, Mexico Cole is now residing and playing music in and around Merida, Mx. Andon Davis and Jim Cole met when Cole introduced himself to Davis at an Anna Fermin & the Trigger Gospel show in 2001. After that meeting, Davis & Cole formed a partnership as an acoustic duo that played until 2009 around Chicago, and downstate where both Cole & Davis originally hail from. Hana Fujisaki and Cole met in 2012 when she was visiting New Orleans from Tokyo. Cole took her and her travelling companion out to multiple music venues on their last night in town. When they got to Vaughn's bar in the Bywater neighborhood, Kermit Ruffins band was doing their weekly gig. Cole asked Kermit if Hana, (19 years old at the time) could sit in. Ruffins was so impressed with her keyboard skills he kept her up on stage for the rest of the night! When she came back to New Orleans later in 2013 she played around town at the top Blues & Jazz clubs with the local "A" list players. Since graduating from the Northwestern Master Jazz program in 2018 she has been steady working in multiple Jazz, Funk, & Afro Cuban bands Cole, Davis & Fujisaki continue, since 2016, to play shows around the Chicago area whenever they're all in town


Grab dinner before the show at BABYGOLD BARBECUE
***PARKING***
There is rather limited street parking in the area, we recommend arriving by rideshare, bicycle, or rickshaw.

***AGE RESTRICTIONS***
21+, Minors admitted with guardian!
Artists
Jim Cole, Andon Davis, Hana Fujisaki