FITZGERALDS SIDEBAR Presents
Songwriter's Circle w/ Host: TIM MENARD + IKE REILLY + PETE CIMBALO
Tim Menard
Ike Reilly (solo acoustic), Pete Cimbalo
Show:

8:30 pm
Doors:

7:30 pm
FITZGERALDS SIDEBAR
FREE/ RESERVATIONS AVAILABLE
Ages 21 and Up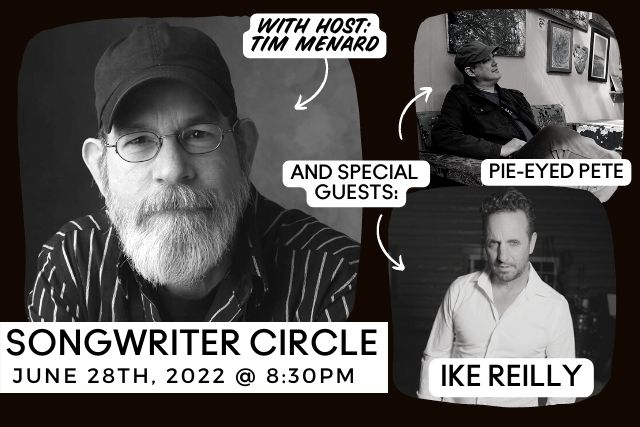 Additional Info
FITZGERALDS SIDEBAR PRESENTS
THE TUESDAY SONGWRITER'S CIRCLE
TIM MENARD + IKE REILLY + PETE CIMBALO

TIM MENARD - This singer-songwriter and multi-instrumentalist has been entertaining audiences throughout America for more than four decades. Tim's musical proficiency, introspective songs, smoky tenor voice and variety of bands make him a musician to be reckoned with.

IKE REILLY - Since his explosive major label debut, Salesmen and Racists, Reilly has been creating rebellious punk/folk/country/blues-influenced rock 'n' roll records that are poetic and cinematic. Critical praise for his work has been plentiful, and he has garnered a wildly loyal fan base -- from faithful fans in the dirty bars and rock clubs in the middle of nowhere to legendary authors. Reilly's songs have a unique universality that affects people. Author Stephen King wrote that Reilly's travel band saga, "Boltcutter," was "the best new song to come out of the Trump era." The New York Times called Reilly's longtime band, The Assassination, one of the best live bands in America, and once again they show their dexterity and growth on Reilly's new offering, Because the Angels.

PETE CIMBALO - Pie Eyed Pete is Peter Cimbalo. Writing, collaborating and performing has become a way of life, each album release representing growth, joy, camaraderie and attention to detail.
Pie Eyed Pete plays instruments ranging from Electric and Upright Bass, Acoustic and Electric guitar to accordion, stylophone and vocoder.
Over the years, he has recorded and performed in numerous bands, including Gin Blossoms, Lost Luggage, Something For Joey, Diplomat 6 and currently in his acoustic band The New Dealers as well as the explosive Ike Reilly Assassination.

FREE SHOW! Click "Book Now" to RSVP for guaranteed entry.
Grab dinner before the show at BABYGOLD BARBECUE
***PARKING***
There is rather limited street parking in the area, we recommend arriving by rideshare, bicycle, or rickshaw.
Artists
Ike Reilly (solo acoustic)