EXPERIENCE FITZGERALDS
FitzGerald's
$100.00 - $200.00
All Ages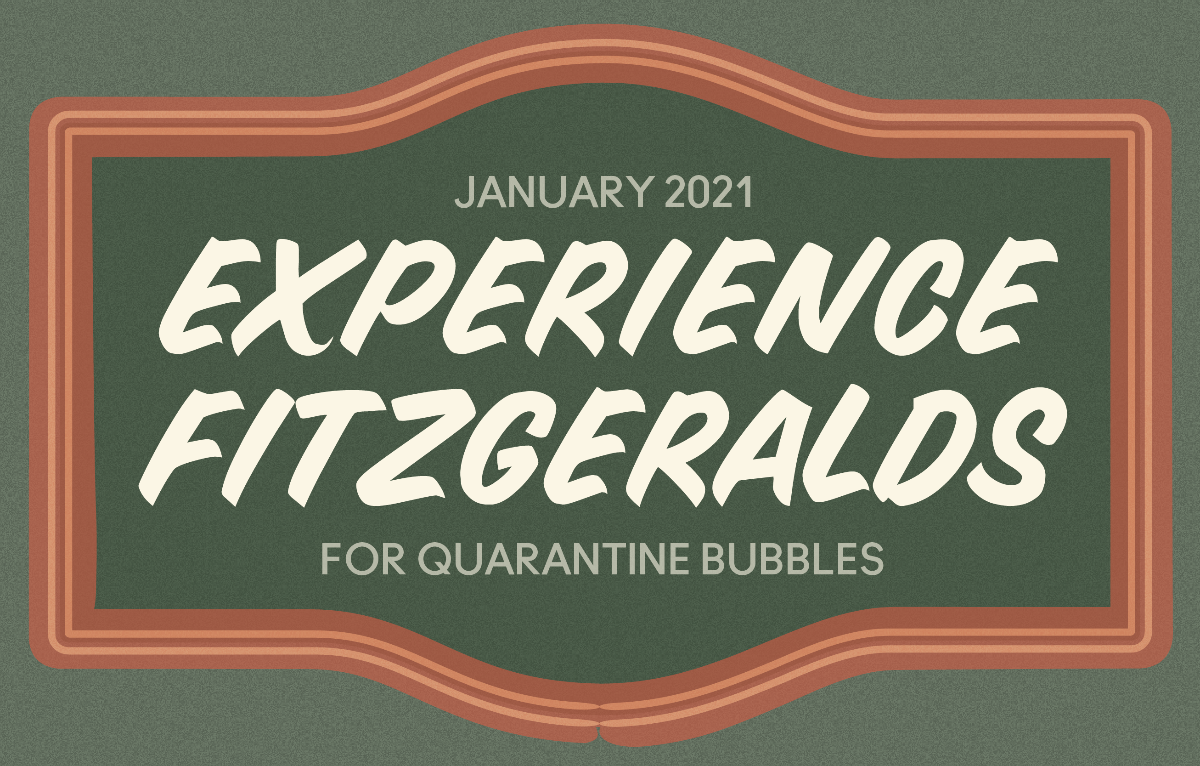 Additional Info
Wanna hang out at FITZGERALDS? Yeah, us too.
Yes, we're all isolating again and that's the right choice. But, wouldn't you like to enjoy yourself, by yourself?
You're welcome to "EXPERIENCE FITZGERALDS" through one of our super tiny micro private bookings. These experiences are designed only for quarantine partners and family bubbles. Book the club for MOVIE PARTY A and watch a movie of your choice. Schedule a SIDEBAR: HAPPY HOUR or DATE NIGHT for you and a guest to sit in a real bar and drink real drinks and listen to a nice stereo. We'll sanitize the joint between visits and guarantee proper mask & social distancing protocols. Enjoy yourself, by yourself.
MOVIE PARTY
For $100, we'll open the club for you. You pick the film, we'll toss it up on the big screen for you and your family-bubble (Capped at 6 People). Enjoy some drinks while you're here and you got a pretty good time going...
SIDEBAR: HAPPY HOUR or DATE NIGHT
For a $100, we'll open up the bar for you to hang with a guest in a real place. Not on your couch, not in the cold. A real bar, all to yourself. Grab a drink while you're here, order some sushi, it'll be nice.
FIRE PIT:
This option is capped at 8 ppl, includes 4 s'mores kits, and careful: it could get a little cold out there. $200/ 2 hours.
Frequently Asked Questions ***THESE ANSWERS ARE SUBJECT TO CHANGE BASED ON REGULATIONS AROUND COVID-19***
GENERAL:
Door Time: The door time is there to state when our EXPERIENCES begin that day. Your EXPERIENCE time is in the ticket line you purchase. For example: "SIDEBAR: DATE NIGHT (7PM)" - This means to arrive at 7PM not at 1PM or 4PM. You will also receive an advance with more information about arrival and expectations.
Can we order / bring food from home? Yes, you can order in from anywhere you like. We'll pick up the trash.
SIDEBAR DATE NIGHT:
Can I bring more than two people to Sidebar? Sidebar Date Night is capped at two people; for family bubbles up to six people, the "Seasonal Cinema" club rental is a good choice.
What's the scoop on the bartender? How are you keeping the staff safe? You'll have the room to yourself. Beverage service will be fulfilled through a minimal-contact system.
MOVIE NIGHT:
Can I bring more than six people to The Club? Club rentals are capped at six people. For up to eight people, the "Outdoor Firepit" experience is a good choice.
Can I incorporate live music into an experience? You may invite a solo musician to perform acousticlally (no PA). Negotiate and complete payment with them directly. Social distancing required.