Song For Song: Jon Langford & Bonnie "Prince" Billy
FitzGerald's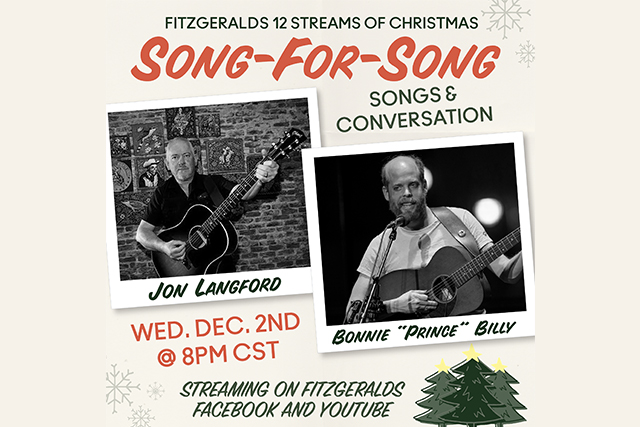 Additional Info
FITZGERALDS 12 STREAMS OF CHRISTMAS:
SONG FOR SONG: JON LANGFORD & BONNIE "PRINCE" BILLY
We kick off FITZGERALDS 12 Streams of Christmas with a Song-For-Song series featuring: Jon Langford & Bonnie "Prince" Billy. Two great songwriters sharing a live stream. It's a split-screen experience where they'll trade a song for a song, chat a bit, and share the spotlight.
THIS CONCERT IS LIVE ON THE INTERNET NOT IN PERSON AT FITZGERALDS. WE WILL EMAIL A LINK TO THE LIVE STREAM AT 7PM ON DECEMBER 2ND, 2020. TUNE IN VIA OUR FACEBOOK PAGE OR YOUTUBE PAGE AND THE SHOW WILL BE LIVE ON WEDNESDAY DECEMBER 2ND AT 8PM CST.
DIRECT LINKS TO STREAM: FACEBOOK: https://www.facebook.com/82719859334/posts/10158049322004335/
or YOUTUBE: https://www.youtube.com/watch?v=1F-VyHs1hDM
If you're feeling generous, you're welcome to hit the old online tip jar. Tips will be split between the artists and venue: Venmo: @fitzgeraldsnightclub or PayPal: PayPal.me/fitzgeraldsnightclub