FITZGERALDS PRESENTS:
EARLY SHOW: Drive-In Concert with Michael McDermott
Michael McDermott
Show:

4:00 pm
Doors:

3:00 pm
FitzGerald's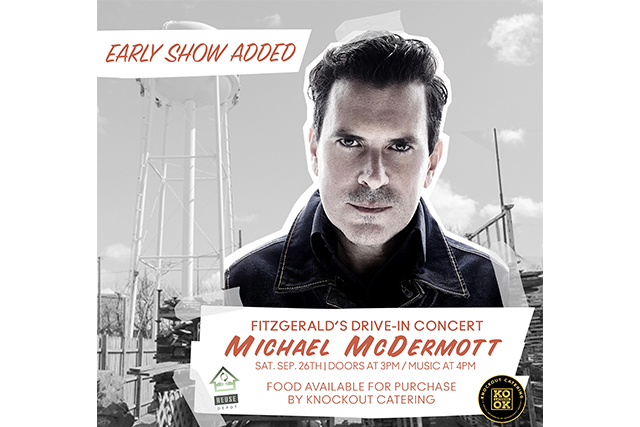 Additional Info
2ND SHOW ADDED! DUE TO POPULAR DEMAND, WE HAVE ADDED AN EARLY SHOW:
FITZGERALDS will be hosting MICHAEL MCDERMOTT and his band for a very special DRIVE IN CONCERT at REUSE DEPOT in Maywood, IL.
We have partnered with KNOCKOUT CATERING to preorder dinner & family meals. You will be prompted to purchase food after purchasing your ticket, please consider in supporting Knockout Catering and Opportunity Knocks.
***A NOTE FROM KNOCKOUT CATERING:
The Knockout Catering Co. is a culinary enterprise by Opportunity Knocks, a local non-profit dedicated to supporting people with intellectual and developmental disabilities as they live, work, learn, grow, and connect in their community. We are proud to partner with our friends at FITZGERALDS and Reuse Depot and bring some high-quality, Warrior-made delights to this concert experience.
Knockout Catering's Oktoberfest menu features a fresh-made bratwurst (Veggie option: Beyond Meats Brat) that is slowly simmered in Kinslahger Brewing Co.'s Marzen beer and our homemade sauerkraut on a soft brioche bun. It will come served with a side of sauerkraut and a German potato salad garnished with our housemade Knockout Smoked Bacon. Dessert is provided in partnership by Hart2Heart Sweets. Their banana split pudding features fresh bananas, fresh strawberries, vanilla wafers, and chocolate sauce.
***DRIVE IN DETAILS
The ticket price is $100 per vehicle entering the concert.
Park only in your assigned spot.
No Re-Entry
All car lights, horns, and alarms must be off upon parking and stay off until you have exited.
You may be inside, on top, or around your car maintaining a safe social distance from adjacent vehicles. Your parking space will be marked with a boundary line
You may leave the parking space to use the restroom. Masks are required anytime you leave your vehicle space and while communicating with staff. We ask that you follow our "Stand up, Mask Up" policy we have established on our Patio.
No engine running, no smoking, no tailgating, no littering, no alcoholic beverages, and no weapons.
We have a rain out date scheduled for Sunday, September 27th.
Thank you for making this fun and safe for all!
Artists