FITZGERALDS Presents:
Friday Night in the club: DUSTBOWL REVIVAL w/ special guest REILLY DOWNES
Dustbowl Revival
REILLY DOWNES
Show:

8:30 pm
Doors:

7:30 pm
FITZGERALDS NIGHTCLUB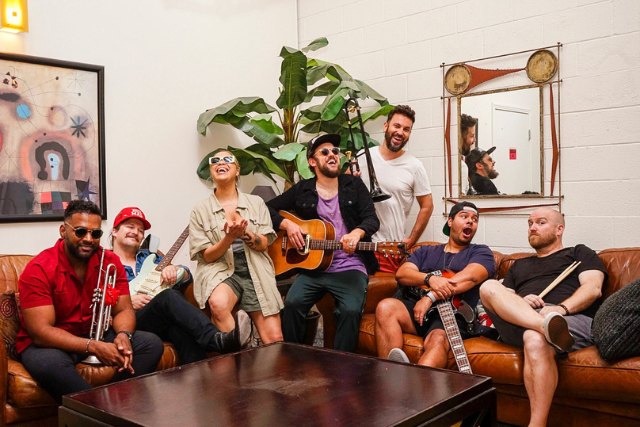 Additional Info
FITZGERALDS NIGHTCLUB PRESENTS:
Friday Night in the club w/ DUSTBOWL REVIVAL seen HERE

w/ Special Guest REILLY DOWNES

$20 General Admission / Reserved Tables Available


Dustbowl Revival has always been about pushing the boundaries of what American roots music can be. After celebrating over a decade of sonic adventuring and playing thousands of shows together in ten countries and counting, the group collected a devoted fanbase coast-to-coast. After throwing five of their own virtual Sway-At-Home festivals during the shut-down featuring nearly forty artists, the always evolving group of string and brass players led by founding members Z. Lupetin, Josh Heffernan, Ulf Bjorlin are excited to welcome a new wave of talent to the band, after emerging from a pandemic touring hiatus.
After spending years on the road, selling out hometown shows at LA's famed Troubadour, headlining festivals and wowing crowds from Denmark to China, Dustbowl Revival never stopped making their joyful, booty-shaking soul songs and cut-to-heart folk-rock ballads that lift up their transcendent live shows.
Grab dinner before the show at BABYGOLD BARBECUE (link to restaurant website)
Or enjoy full service dining inside the club when doors open.
***PARKING***
There is rather limited street parking in the area, we recommend arriving by rideshare, bicycle, or rickshaw.
***AGE RESTRICTIONS***
21+, minors admitted with guardian
Artists