FITZGERALDS SIDEBAR Presents
Songwriter Circle: RON LAZZERETTI w/ Guests Dave Kay and Rob Brookman
Ron Lazzeretti
Dave Kay, Rob Brookman
Show:

7:00 pm
Doors:

5:00 pm
FITZGERALDS SIDEBAR
FREE/ RESERVATIONS AVAILABLE
Ages 21 and Up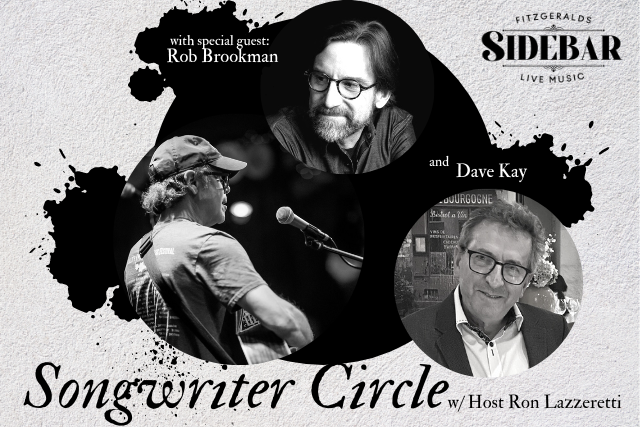 Additional Info
FITZGERALDS SONGWRITER CIRCLE:
HOSTED BY RON LAZZERETTI
W/ SPECIAL GUESTS: Dave Kay and Rob Brookman
FREE SHOW!
Click "Book Now" to reserve a table!

Ron Lazzeretti sings simple songs about love and redemption--alternately dark, funny and buoyant. A local poster boy for late bloomers everywhere, Lazzeretti just recently released his first record, "Battle Of The Planets" after years of writing and playing in venues all around Chicagoland.
Lazzeretti is also a veteran writer, independent filmmaker and commercial director. Ron wrote and produced Michael Keaton's directorial debut
" The Merry Gentlemen" starring Keaton and Kelly Macdonald (Boardwalk Empire, No Country For Old Men). The film had its premiere at the Sundance Film Festival and went on to earn rave reviews in the LA Times, The NY Times, as well as 3 ½ stars from Roger Ebert.

Grab dinner before the show at BABYGOLD BARBECUE
***PARKING***
There is rather limited street parking in the area, we recommend arriving by rideshare, bicycle, or rickshaw.
Artists