FITZGERALDS SIDEBAR Presents:
Song Circle w/ Host: Ryan Joseph Anderson w/ guests Judson Claiborne and Will Phalen
Ryan Joseph Anderson
Chris Salveter, Will Phalen
Show:

7:00 pm
Doors:

5:00 pm
FITZGERALDS SIDEBAR
FREE / Reservations Available
Ages 21 and Up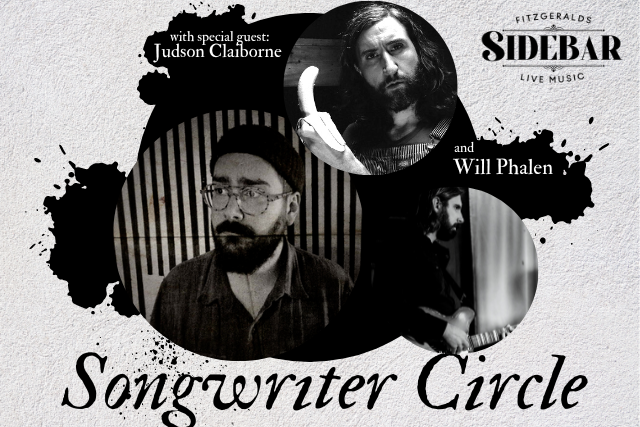 Additional Info
FITZGERALDS SONGWRITER CIRCLE:
HOSTED BY RYAN JOSEPH ANDERSON
W/ SPECIAL GUESTS Judson Claiborne and Will Phalen

FREE SHOW! Click "Book Now" to reserve a table. We always leave room for walk-ins so if you can't find a reservation, don't sweat it, c'mon over!
Ryan Joseph Anderson's solo career began in April 2014 with the release of his debut album, The Weaver's Broom. The album, engineered and co-produced by Andrija Tokic (Alabama Shakes, Hooray for the Riff Raff), was hailed as one of the best Americana records of the year. Songs from The Weaver's Broom made "best of" lists for Daytrotter and Songpickr and were featured in Paste and Magnet. American Songwriter said that Anderson "evokes the open-tunings of Nick Drake as well as the barroom howl of Tom Waits." Before going solo, Anderson was known as the bandleader and songwriter for the beloved Chicago roots outfit Go Long Mule, as a guitar slinger for garage-rockers Rambos, and as a producer, sessions man and sideman for numerous artists. His influences range from country blues to psychedelic rock and are on prominent display in his masterful guitar playing and songwriting. Anderson's sophomore release, City of Vines was released in the summer of 2017 to critical acclaim. He toured extensively in support of the record and has shared the stage with such acts as Robert Earl Keene, Honey Honey, Robbie Fulks, Charlie Parr, and Amy Helm.

Grab dinner before the show at BABYGOLD BARBECUE
***PARKING***
There is rather limited street parking in the area, we recommend arriving by rideshare, bicycle, or rickshaw.
Artists