FITZGERALDS SIDEBAR Presents
Song of the Month Club w/ GERALD DOWD Featuring COOKBOOK
Gerald Dowd
Cookbook
Show:

9:00 pm
Doors:

5:00 pm
FITZGERALDS SIDEBAR
FREE / RSVP
Ages 21 and Up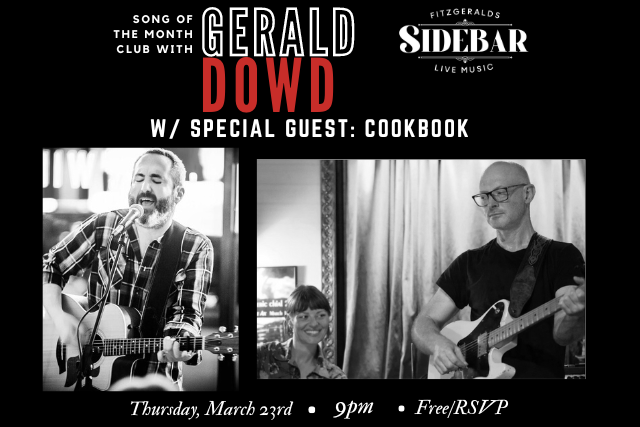 Additional Info
FITZGERALDS SIDEBAR PRESENTS:

GERALD DOWD seen HERE
w/ COOKBOOK

Mr. Dowd will be hosting a monthly residency in FITZGERALDS SIDEBAR. It's called SONG OF THE MONTH CLUB, and for a damn good reason: each month he and his invited guest will debut one BRAND NEW SONG. among the many other cool things they will do. You'll want to be in the room when it happens.

Cookbook not in alphabetical order is Devin Ulery on drums and percussion and Jason Batchko on guitar/vox and whatever else might be laying around. Their music is a mix of rock n roll, train songs, balladry, outsider folk, insider country, odd blues, and some covers thrown in the brew, too. When Jason isn't singing and strumming in Cookbook he can usually be found playing drums with different bands and singer/songwriters around town and Devin is the drummer for psychedelic rock 'n rollers The Fluffers along with working on other cool musical and artistic endeavors.
FREE SHOW! Click "Book Now" to RSVP
Enjoy dinner from BABYGOLD BARBECUE
***PARKING***
There is rather limited street parking in the area, we recommend arriving by rideshare, bicycle, or rickshaw.
MORE ON THE DOWD:
Gerald Dowd has been described as "the hardest working drummer in Chicago" (Richard Milne, WXRT), playing on over 100 albums, and averaging 150 live dates a year around the world. In recent years, he's been releasing solo albums of original material, starting with his 2012 release, Kingsize EP. In 2014, he was the recipient of an IAP arts grant from Chicago's Dept. Of Cultural Affairs/Special Events (DCASE), which led to his first full-length solo album, Home Now, produced by Grammy-nominated producer Liam Davis, and featuring, among others, Chicago legends Robbie Fulks and Nora O'Connor. To celebrate the release, he held a benefit concert (DAY OF THE DOWD) at which he played for 13 hours straight with 16 different bands, raising over $10,000 for the Greater Chicago Food Depository.

Grab dinner before the show at BABYGOLD BARBECUE
Artists