FITZGERALDS Presents:
NATHAN GRAHAM AND ANDREW SA
Nathan Graham
Andrew Sa
Show:

8:30 pm
Doors:

7:30 pm
FITZGERALDS NIGHTCLUB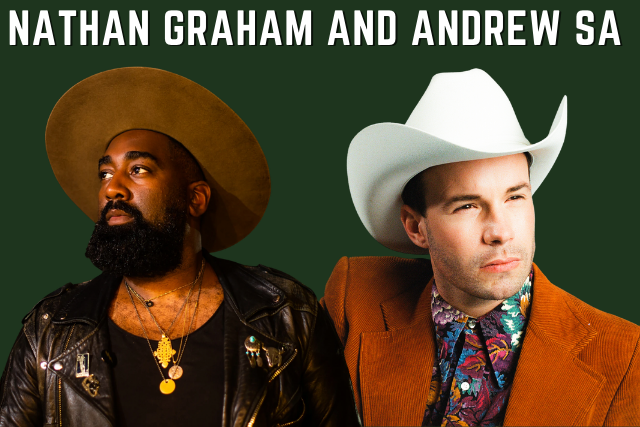 Additional Info
FITZGERALDS NIGHTCLUB PRESENTS:
NATHAN GRAHAM AND ANDREW SA

$20 General Admission

Nathan Graham is a musician born and raised in Chicago. His music bridges the gap between South Side Soul and Nashville Americana, creating a new inclusive vision of singer-songwriter. He built his career over the last ten years as a guitar-for-hire, touring internationally with major label and indie acts, all while focused on songwriting and honing his skills as a solo performer.
​"My goal is to show a different kind of singer-songwriter. I don't look or sound like you'd expect, but I'm writing about universal experiences of love, loss, uncertainty and anxiety. I'm writing music to connect my story to yours, show you all that we have in common, and maybe help both of us feel less alone."
Actor and Vocalist Andrew Sa has earned the title of Chicago's premiere queer country crooner. Sa's career has always been rooted in songwriting that highlights his easy and elegant voice, but when he met mentor and pioneer Patrick Hagerty of Lavender Country, "Lonesome Andrew" was born. Diving headfirst into the catalogs of Elvis Presley, Roy Orbison, and other classic songwriters that defined his childhood, Sa easily slipped into this new but familiar persona. It wasn't long before all of Chicago was seeking out his voice.
"Lonesome Andrew" quickly became the star of The Cosmic Country Showcase, an instant smash hit camp-country revue based out of the Hideout, a bar that has fostered many a golden voices for decades. One of those legendary voices, Kelly Hogan (Mavis Staples, Neko Case), instantly recognized Sa's abilities and quickly the two were booking gigs across the city as a duo. The young and talented Liam Kazar (Tweedy, Marrow) also recruited Sa for a duet on his debut album Due North. Audiences and fellow artists alike reveled in Sa's intra-generational appeal that, while timeless, is rooted in a definitively young, queer perspective.

Grab dinner before the show at BABYGOLD BARBECUE
Or enjoy full service dining inside the club when doors open.
***PARKING***
There is rather limited street parking in the area, we recommend arriving by rideshare, bicycle, or rickshaw.
Artists