FITZGERALDS Presents:
J-LIVI & THE PARTY in the SIDEBAR Friday night!
J-Livi & The Party
Show:

8:30 pm
Doors:

5:00 pm
FITZGERALDS SIDEBAR
FREE/ RESERVATIONS AVAILABLE
All Ages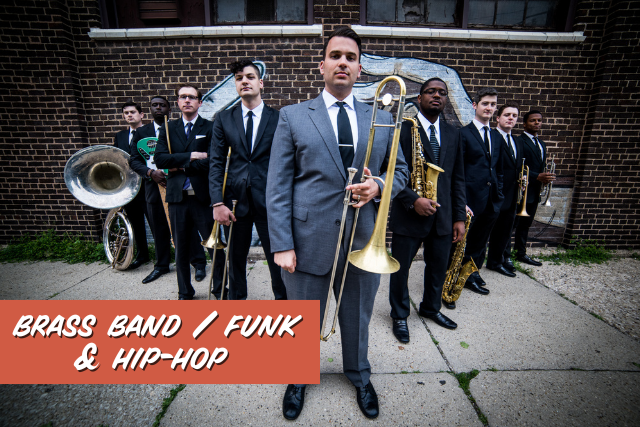 Additional Info
BRASS BAND BRUNCH IN THE CLUB
featuring:
J-LIVI & THE PARTY seen HERE
FREE SHOW! Click "Book Now" to RSVP for guaranteed entry
We always leave room for walk-ins so if you can't find a reservation,
don't sweat it, c'mon over!

Bio: J-Livi & The Party is a Chicago-based brass band that focuses on playing nothing but funk and hip-hop. We are heavily influenced by artists who are native to Chicago – any artist of renown from our fair city has influenced The Party (in some ways personally), from Earth, Wind & Fire right on up through Kanye West. Our song list includes tunes by Chicago, EWF, Jean Knight, Chaka Khan, Stevie Wonder, CeeLo Green, Kanye, and Macklemore. J-Livi and the Party is a Pep Band on steroids: our goal is to make every performance a party atmosphere while maintaining the highest level of musicianship. Our band can PARTY, and we're the loudest and baddest band in town! We can't wait to play for (and party with) you!
Enjoy BRUNCH from BABYGOLD BARBECUE
***PARKING***
There is rather limited street parking in the area, we recommend arriving by rideshare, bicycle, or rickshaw.
Artists