FitzGerald's Presents:
REVEREND HORTON HEAT w/ Special Guest: Scott H. Biram
Reverend Horton Heat
Scott H. Biram
Show:

8:30 pm
Doors:

7:30 pm
FITZGERALDS NIGHTCLUB
$32 - $270
Ages 21 and Up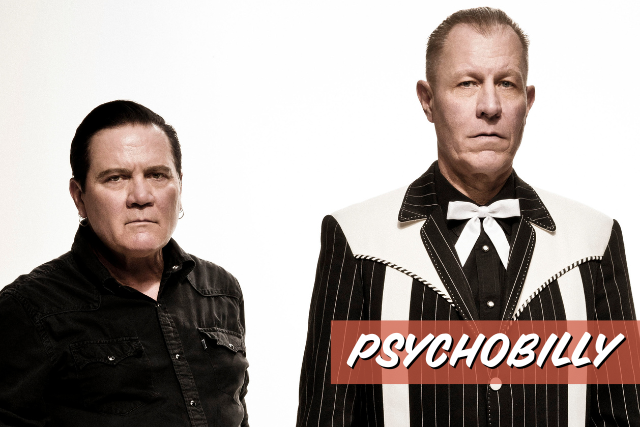 Additional Info
FITZGERALDS NIGHTCLUB PRESENTS:
REVEREND HORTON HEAT seen HERE w/ Special Guest Scott H. Biram
$32 General Admission / Reserved Tables Available
Loaded guns, space heaters, and big skies. Welcome to the lethal littered landscape of Jim Heath's imagination. True to his high evan- gelical calling, Jim is a Revelator, both revealing & reinterpreting the country-blues-rock roots of American music. He's a time-travelling space-cowboy on a endless inter- stellar musical tour, and we are all the richer & "psychobillier" for getting to tag along.

Seeing REVEREND HORTON HEAT live is a transformative experience. Flames come off the guitars. Heat singes your skin. There's nothing like the primal tribal rock
& roll transfiguration of a Reverend Horton Heat show. Jim becomes a slicked-back 1950′s rock & roll shaman channeling Screamin' Jay Hawkins through Buddy Holly,
while Jimbo incinerates the Stand-Up Bass. And then there are the "Heatettes". Those foxy rockabilly chicks dressed in poodle-skirts and cowboy boots slamming the
night away. It's like being magically transported into a Teen Exploitation picture from the 1950′s that's currently taking place in the future.

Listening to the REVEREND HORTON HEAT is tantamount to injecting pure musical nitrous into the hot-rod engine of your heart. The Reverend's commandants are simple.
Grab dinner before the show at BABYGOLD BARBECUE
Or enjoy full service dining inside the club when doors open.
***PARKING***
There is rather limited street parking in the area, we recommend arriving by rideshare, bicycle, or rickshaw.
Artists