FITZGERALDS SIDEBAR Presents
The One Year Anniversary of SONGWRITER'S CIRCLE Spectacular w/ host: ISAAC DAVID LYONS
Isaac Lyons
Show:

7:00 pm
Doors:

12:00 am
FITZGERALDS SIDEBAR
FREE/ RESERVATIONS AVAILABLE
Ages 21 and Up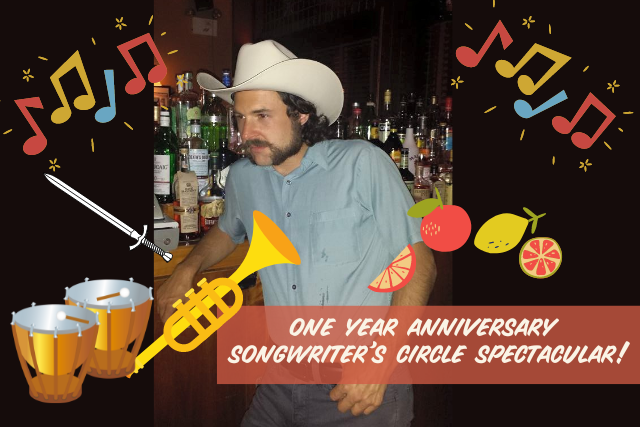 Additional Info
FITZGERALDS SIDEBAR PRESENTS:
One Year Anniversary Singer Songwriter Circle Spectacular at Fitzgeralds Sidebar in Berwyn! with your (pre)Host Isaac David Lyons featuring astounding acts from around the World!
Sixtoes Gilmarie of Saskatchewon
Kurdlu Ugman the Sword Swallowing Yodeler
Timpani Master Walter Narder Hobse
plus Tiny Galagher!
guest appearances by but not unlimited to:
joe policastro
kara kesselring
john fournier
andon davis
casey mcdonough
chris nevile
kevin trim
gerald dowd
and possibly more!
FREE SHOW! Click "Book Now" to reserve a table.
We always leave room for walk-ins so if you can't find a reservation, don't sweat it, c'mon over!
Grab dinner before the show at BABYGOLD BARBECUE
***PARKING***
There is rather limited street parking in the area, we recommend arriving by rideshare, bicycle, or rickshaw.
Artists