FitzGerald's Presents:
Robin Bienemann Trio w/ Greg Schroeder and D. Anson Brody
Robin Bienemann
Greg Schroeder, D. Anson Brody
Show:

8:30 pm
Doors:

7:30 pm
FITZGERALDS NIGHTCLUB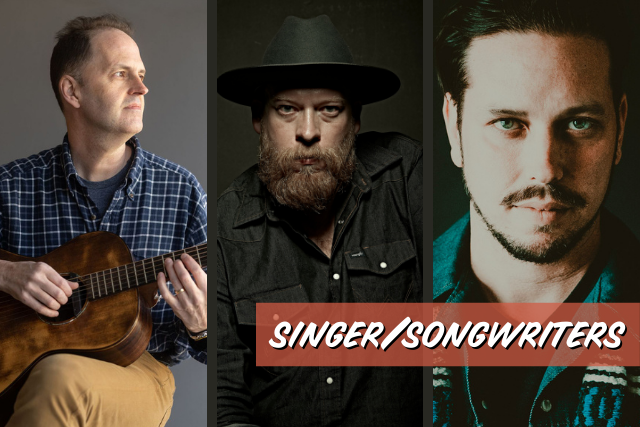 Additional Info
FITZGERALDS NIGHTCLUB PRESENTS:
Robin Bienemann Trio w/ Greg Schroeder and D. Anson Brody

$10 General Admission

Robin Bienemann - is a singer-songwriter based in Chicago. His wickedly funny and poignant original songs mix contemporary themes with the earliest forms of Jazz, Blues and Country guitar from Charley Patton to Les Paul. Robin's performances combine dry humor and sophisticated songwriting with a deep sense of history. At his musical core is a reverence for the guitar as an instrument to accompany songs and as a vessel to express the American psyche in all of its strange beauty and complexity.
Robin has shared the stage with Dan Hicks, Christine Lavin, Junior Brown & Southern Culture on the Skids. He performs regularly solo and as a duo with his wife Jenny Bienemann. With his duo Twang Bang he toured the U.S. and Japan.

Greg Schroeder - Known for his earthy, Texas-Blues sound and a poetic writing, Greg is a gem in Americana music. Greg has played shows from New York to California and anywhere in between. In over 20 years on the scene, he has had the honor to share the stage with artists like James McMurtry, Joe Ely, Monte Montgomery, Bob Schneider, Gary Louris, Rhett Miller, The Gourds, Shiny Rib, The O's, Sara Hickman, The Trishas, Slobberbone, Sorta to name a few.
D. Anson Brody - D. Anson's aesthetic encompasses the dazzling acoustic guitar chops of the Candy Rat Records crew, the intrepid folk explorations of the freak folk scene, and the bold vulnerability and reflectiveness of the singer-songwriter milieu. The organizing factor in his work is serving-the-song artistic sensitivity and capturing emotional authenticity.
D. Anson is an explosive live performer with a magnetizing and enigmatic charm. Live, and on record, D. Anson employs an intimidating array of instruments to the unlock the dynamic emotionality of his music. He's garnered rave reviews and features in the Dallas Observer, Fort Worth Weekly, DFW.com, and in the Star Telegram.
Grab dinner before the show at BABYGOLD BARBECUE
Or enjoy full service dining inside the club when doors open.
***PARKING***
There is rather limited street parking in the area, we recommend arriving by rideshare, bicycle, or rickshaw.
Artists