FITZGERALDS Presents
Chris and Heather's 16mm Film Festival w/ Musical Guest Chris Ligon
w/ Special Guest Chris Ligon
Show:

8:30 pm
Doors:

7:30 pm
FITZGERALDS NIGHTCLUB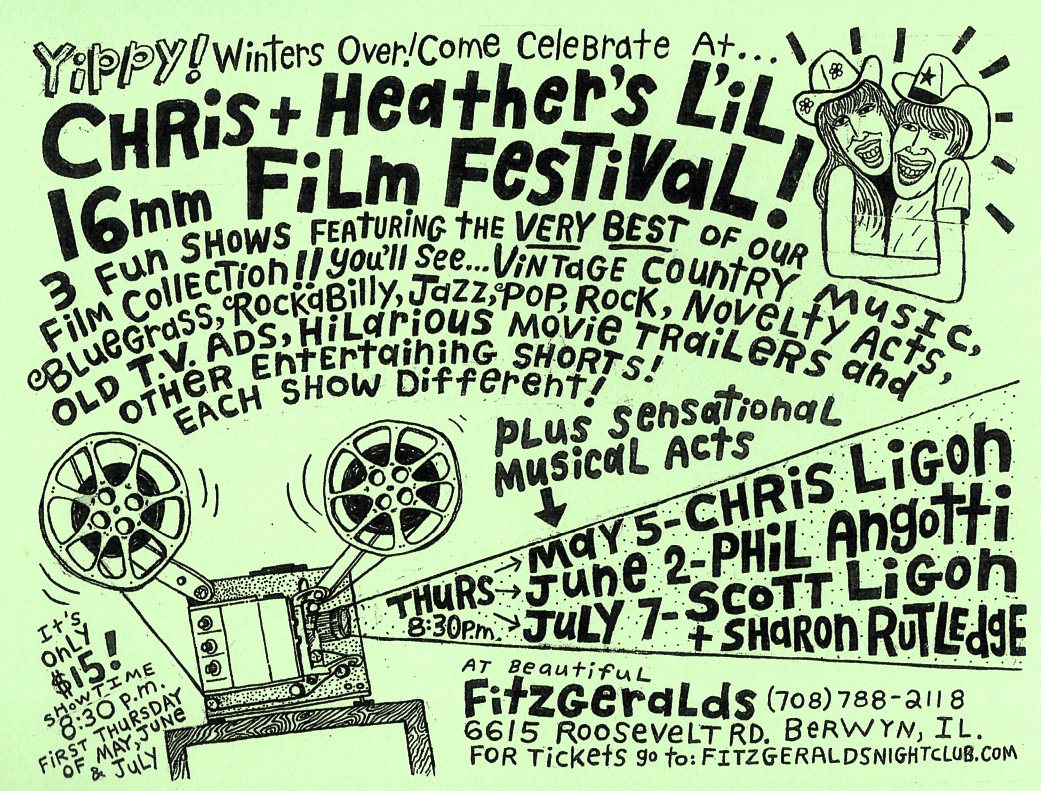 Additional Info
FITZGERALDS NIGHTCLUB PRESENTS:
Chris and Heather's 16mm Film Festival.
Anyone who has attended Chris & Heather's Country Calendar Show over the past 25 years (this December will mark the 25th anniversary) knows that a major part of the show is the projection of 16mm film. The sound of the projector, the light streaking across the heads of a captivated audience all harkens back to another time, a non-digital era. But Chris and Heather's 16mm Film Festival is not simply an homage to an earlier time. The passion and appreciation for 16mm movie projection is as deep as their collection of rare and wonderful films which include musical performances of all types; country, bluegrass, jazz, pop, rock and folk as well as wacky novelty acts, amazing movie trailers, hilarious TV commercials advertising everything from cigarettes to weird dolls, riotous cartoons and much more, all hand selected from their private vault of theatrical treasures. The festival begins Thursday, May 5th at 8:30 and continues on subsequent 1st Thursdays in June (June 2nd) and July (July 7th) and will feature a live performance by artists chosen by Chris and Heather. See below for musical details.
Chris Ligon is a songwriter who rarely performs in public so it is always a special occasion when he does. Ligon is generally more comfortable in his own basement creating and recording his songs which range from hilarious to heartbreaking, unusual to beautiful but always unique. Chicago supergroup, The Flat Five have recorded 2 full albums of songs composed entirely by Chris, "It's a World of Love and Hope" (2016) and "Another World" (2020).
During the past two years since his last live performance, Ligon has released two albums of his own; "Summer Vacation" and "Creepy Little Moustache". These and other Ligon releases will be available at the club and he will be performing songs from these new records as well as fan favorites from his impressive 45 year songwriting career.
Mark Guarino of Chicago magazine wrote ... "He's Chicago's best songwriter you've never heard of"... It's time to change all that tonite folks. I think you'll fall in love with him too... like I did" - Heather McAdams
$15.00 Tickets available at the
FITZGERALDS
website.
Grab dinner before the show at BABYGOLD BARBECUE
Or enjoy full service dining inside the club when doors open.
Artists
w/ Special Guest Chris Ligon