FitzGerald's Presents
FITZGERALDS Community Truck Concert: Jon Langford
FitzGerald's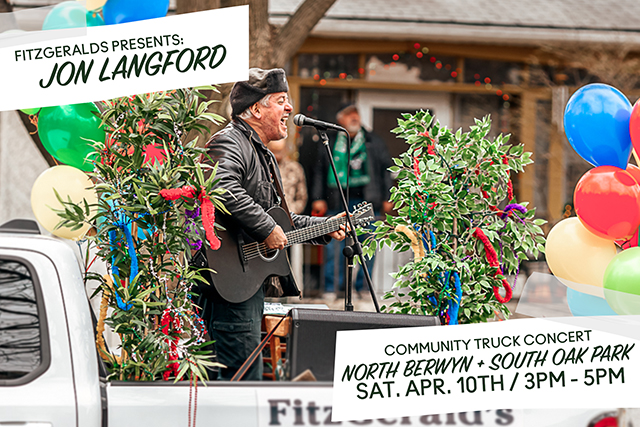 Additional Info
*** RESCHEDULED TO APRIL 17th @ 3PM ***
Our little baby traveling truck show is turning one year old! Aww, what a cutie... let's get a smash cake! Better yet, let's return to where it all started with an anniversary #CommunityTruckConcert featuring the great Jon Langford. Local legend Langford was the first brave soul to grace the truckbed back in early April 2020, and he's been kind enough to help us mark this moment with a victory lap. We'll return to the scene of the original crime** in North Berwyn & South Oak Park so hit that location request form if you live nearby. We've also tapped an expert film crew to produce a high quality multi-camera live stream so tune in for that why don't ya!?

**FITZGERALDS makes no admission of guilt in the commission of any traveling truck related criminal acts.
If you live between Madison (N), 22nd (S), Austin (E), and Harlem (W) in North Berwyn & South Oak Park, sign up here to request The FITZGERALDS Community Truck Concert pay you a visit on Saturday April 17th between 3:00pm and 5:00pm. We may not be able to make it to everyone so we'll visit the blocks with the most requests. Encourage your neighbors to fill out the form. If your block is selected, you will receive a confirmation email with details. In an effort to prevent excessive gathering, the route will not be made public. Please remember to wear a mask and maintain a safe distance.
FITZGERALDS is now offering Cocktails To-Go for DELIVERY or PICK-UP. Delivery available within a 5 Mile radius. Our online shop is always open to receive orders and deliveries can be scheduled anytime between 12-8p Tuesday - Saturday. Order before our Saturday Truck Concert.

ORDER HERE: https://www.toasttab.com/fitzgeralds/v3
If we visit your block: support the club, the artist and our staff via Venmo: @FITZGERALDSNIGHTCLUB (last four digits: 0646) or Paypal: PAYPAL@FITZGERALDSNIGHTCLUB.COM
Artists