Jenny Bienemann's Haiku Milieu: Book Release Celebration Virtu-Concert
FitzGerald's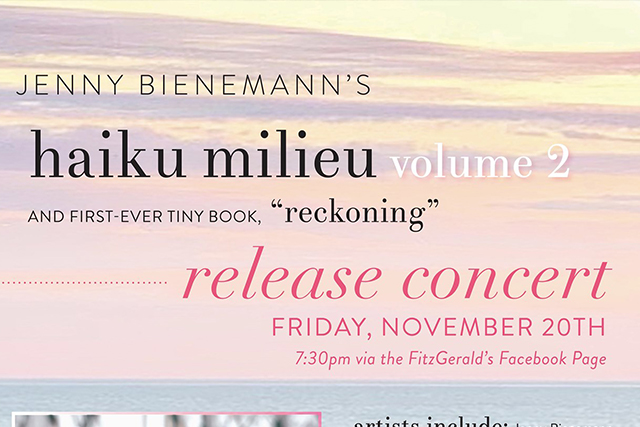 Additional Info
WELCOME! We are celebrating the release of Jenny Bienemann's two new Haiku Milieu Books by doing what we do: WRITING and PLAYING OUR SONGS for YOU!
We begin at 7 pm with a 25-minute, non-streaming, pre-show Zoom party with a few of our artists performing a Haiku song live. No tips! Just a celebration.

At 7:30 pm, the Virtu-Concert livestreams from the FitzGerald's page:
The show features the work of these fine artists:
Ryan Joseph Anderson, Naomi Ashley, Jordi Baizan, Steve Dawson, Joe Dempsey, Gerald Dowd, Kate FitzGerald, Sam Frazier, Ingrid Graudins, Kevin James, Dag Juhlin, Jon Langford, Ron Lazzeretti, Ian Leith, Chris Neville, Rod Picott, Rob Pierce, Claudia Russell and Bruce Kaplan, Shanna in a Dress, Grace Smith, David Walker, Jodi Pulick Walker, Terry White, Jon Williams, Kay Williams, and of course, Jenny and Robin Bienemann.

- There will be a tip jar split with FitzGerald's, information on picking up copies of Jenny's books "Haiku Milieu Vol. 2" and "Reckoning," and plenty of artists who's work will make the perfect gift for those who plan to "shop local" this year.
Venmo: @FITZGERALDSNIGHTCLUB
(last 4 digits: 0646)
PayPal: paypal@fitzgeraldsnightclub.com