FITZGERALDS PRESENTS:
Drive-In Concert
Show:

7:00 pm
Doors:

6:00 pm
FitzGerald's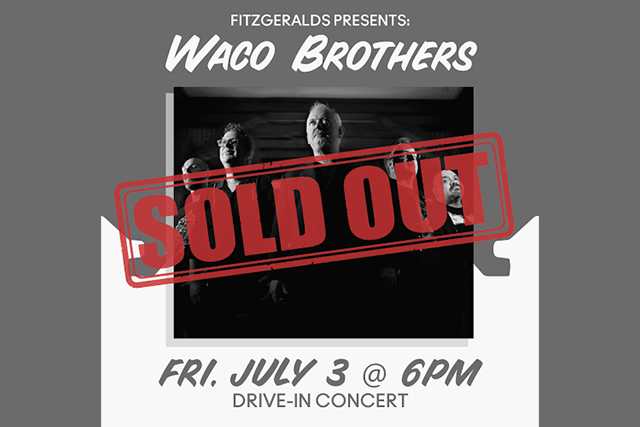 Additional Info
FITZGERALDS will be hosting our old faves the Waco Brothers along with community darlings School Of Rock - Oak Park for a DRIVE-IN CONCERT. Top secret location to be announced in due time. The location is within 10 miles of FITZGERALDS. You will be notified via email of the exact location of the concert on the day of the event.
Each Ticket is per vehicle entering the concert.
Park only in your assigned spot.
All car lights, horns, and alarms must be off upon parking and stay off until you have exited.
You may be inside or on top of your vehicle maintaining a safe social distance from adjacent vehicle.
You may leave to leave the parking space to use the restroom or to hit the concession stand. You must wear a mask anytime you leave your vehicle.
No engine running, no smoking, no tailgating, no littering, no alcoholic beverages, and no weapons.
We have a rain out date scheduled for Sunday, July 5th.
Thank you for making this fun and safe for all!