FITZGERALDS PRESENTS:
Stay-At-Home Concert Series: Paul Cebar (Forest Park, IL)
Paul Cebar
FitzGerald's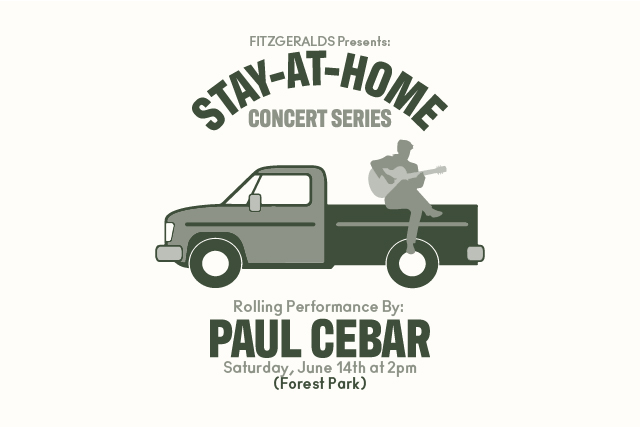 Additional Info
FITZGERALDS proudly presents Paul Cebar, performing solo from the back of a pick-up truck as we bring the club to you, at a safe distance.
***Proper social distancing will be required amongst anyone involved.***
To prevent gathering, the exact location will remain secret. However, if you live In
FOREST PARK, IL,
Click
here
to request The FITZGERALDS Stay-At-Home Concert pay your block a visit this Saturday, June 13th, 2020 between 2:00PM and 3:30PM.
We are likely to visit the blocks that we receive the most requests from. Encourage your neighbors to fill out the form. Please remember to stay on your own property and maintain a safe distance.
Whether we visit your block or you enjoy the livestream: please support the club, the artist and our staff via Venmo: @FITZGERALDSNIGHTCLUB (last four digits: 0646) or PayPal:
PAYPAL.ME/FITZGERALDSNIGHTCLUB
This is certainly the first concert any of us have promoted where we're asking people NOT to come! If you do not live nearby, tune in to the live stream on the FITZGERALDS Facebook page. And seriously: Stay At Home!
Artists