Concerts in the Yard: The Steel Woods, Trout Steak Revival
Fri, Aug 16 2019, 7:00pm
-
$15 in advance, $20 at door
-
Tickets
FitzGerald's presents a series of three outdoor concerts. (In case of rain, the show will move into the club.) Doors open at 6 pm.
Food for purchase tonight: Tom "Festival" Cimms' Louisiana specialties. No outside food allowed.
Sponsored by 805 California Blonde Ale and Sam Ash Music.
THE STEEL WOODS (8:30): The Steel Woods' sophomore Thirty Tigers album, Old News, represents a creative leap for the southern roots rock songwriting team of Alabama native Wes Bayliss and his North Carolina partner Jason "Rowdy" Cope, who completed their first recordings barely months after they first met.
Recorded in Asheville, NC at Echo Mountain Studios, the site of an old church during a six-day break in a hectic touring schedule, the new double-vinyl disc (the follow-up to 2017's critically acclaimed Straw in the Wind) features more original songs and, for the first time, the whole band participated – including the rhythm section of bassist Johnny Stanton and drummer Jay Tooke – playing in a single room, cutting the tracks virtually live.
"We really hone in on what we do, our strengths as a band, establishing a musical identity," explains Wes about their latest effort. "The first album, we were still figuring out our sound, so what came out, came out. This time, we had a premeditated blueprint, a real plan." https://thesteelwoods.com
TROUT STEAK REVIVAL (7:00)
When TROUT STEAK REVIVAL won the Telluride Bluegrass Festival Band Competition in 2014, they emerged on the roots music scene to listeners anticipating the often–heard dose of progressive bluegrass with a hint of jam. Their unique brand of mountain music stood out, though, and quickly the band caught the attention of fans and folk radio DJs alike. Over the last three years, the Colorado quintet has further refined its style and, with SPIRIT TO THE SEA, delivers a mesmerizing and soul-quenching array of original songs resonating with the finer points of folk and Americana. Produced by Chris Pandolfi of Grammy-winning The Infamous Stringdusters, the new album is a reflection of the depth and honesty of songwriting that is possible when a trusting and encouraging band of friends grows together into a band of musicians.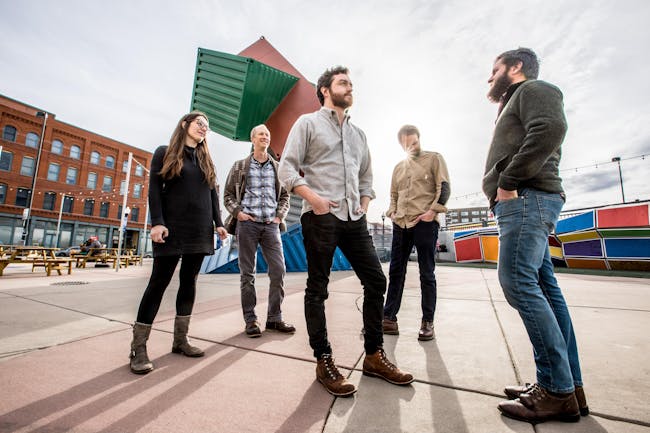 With each individual contributing lead vocals and instrumentation to the band's collaborative songwriting process, TROUT STEAK REVIVAL is more than a sum of its five parts. BEVIN FOLEY (fiddle), STEVE FOLTZ (guitar & mandolin), CASEY HOULIHAN (bass), WILLIAM KOSTER (guitar & dobro), and TRAVIS MCNAMARA (banjo) take turns singing lead and harmonies throughout the album, and such sharing of the vocal ensemble roles creates a diverse and satisfying blend of musical offerings to listeners. Most of the band members of TROUT STEAK REVIVAL originally hail from the Midwest, but their lives, their musical endeavors, and the band's identity now hold roots in Colorado. Inspired by and embodying the popular live music scene in Denver and Boulder, TROUT STEAK REVIVAL is emerging as the quintessential Colorado band. Named by Denver Westword as "Best Bluegrass Band" in 2016 and 2017, and chosen by the State of Colorado to represent the culture of its citizens on a Today Show appearance, the band draws constant recognition for its wholesome message and down-to-earth sound.
To succeed, though, a band must grow, and SPIRIT TO THE SEA expands TROUT STEAK REVIVAL's repertoire beyond Colorado bluegrass without leaving behind the communal nature of the band's origins. The new album is more diverse and inviting than their past albums, rolling out the carpet for new fans with many different tones, vibes, and topics underlying the songs. Whether listeners are in search of a deep connection with lyrics or simply need a good melody to dance to, SPIRIT TO THE SEA provides a mix of music that is a pleasure to relate to. Songs crafted out of love, fear, heartbreak, wonder, joy, and freedom provide a glimpse into the soulful depth of the individual members of TROUT STEAK REVIVAL and hearken back to emotions all our own.